Uproxx
"I'm bad at picking things. I'm constantly surrounded by everything at once. I am kind of… chameleon-esque."
Mikey Ambrosino — also known as the singer-songwriter and solo artist MyKey — keeps it as casual as they come. From his genre-defying mix of pop, rock, and traditional folk storytelling to the way he dresses to how he spends his now limitless pandemic era free time, there isn't a thing the 23-year-old songwriter does that isn't driven by genuine interest and approached with breezy confidence. MyKey is also a bit of a cultural sponge, pulling influences from the simple things that inspire him and filtering them through his unique lens.
Like a conversation between friends that blooms into a song. Or pairing skittering trap-beats with guitars. Or diving into a scene he's brand new to and was previously unaware of: gaming.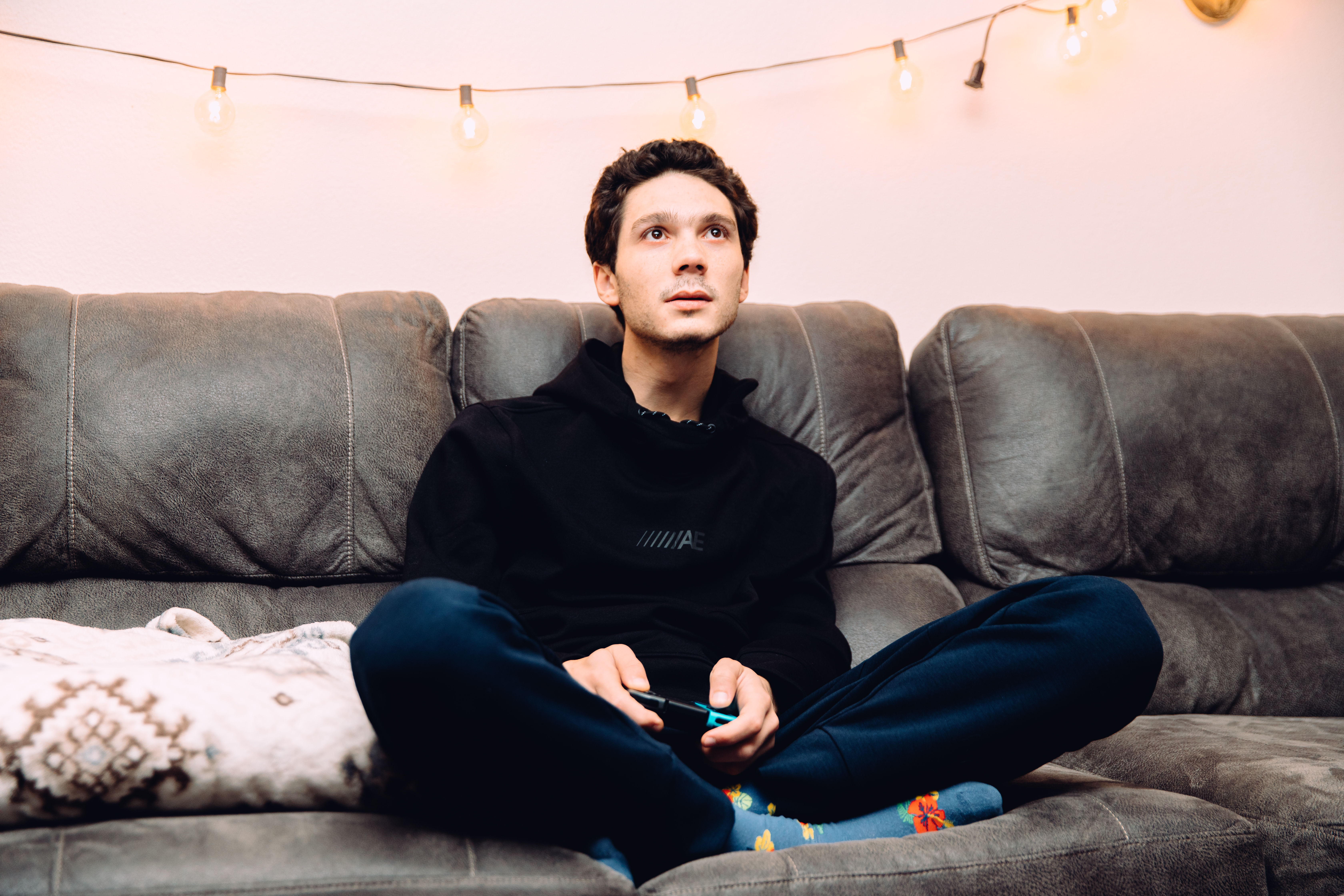 Uproxx
"I didn't even know there were genres!" MyKey tells me over the phone of his new passion for gaming.
At the start of the quarantine, he and his roommates picked up various gaming systems. Playing offered respite from the dire daily news.
"Growing up, I missed the boat but during quarantine, my roommates and I have been heavy in a phase," MyKey says. "Before COVID, video games were always at a friend's or a roommate's or my brother's. I never really thought about them in first person. Nowadays, they're a good break from the insanity."
MyKey tends to gravitate towards multiplayer party games that he can enjoy with his buddies, but things never get fierce or competitive. For the multi-hyphenate creative, it's just another one of the chill activities that inspire his expression.
"It's sensory overload all the time," he says. "It's great to come up with little doodle ideas. It's a great way to wake up the artistic side of my brain… the music in games is insane. I totally missed out on that whole world and I'm just realizing that games have the most incredible soundtracks."
MyKey's new appreciation of gaming isn't just a fling borne out of too much spare time. He plans to stick with his new hobby once he hits the road again.
"I'll probably keep crushing. Mario Kart is mad addicting and probably a vibe on tour."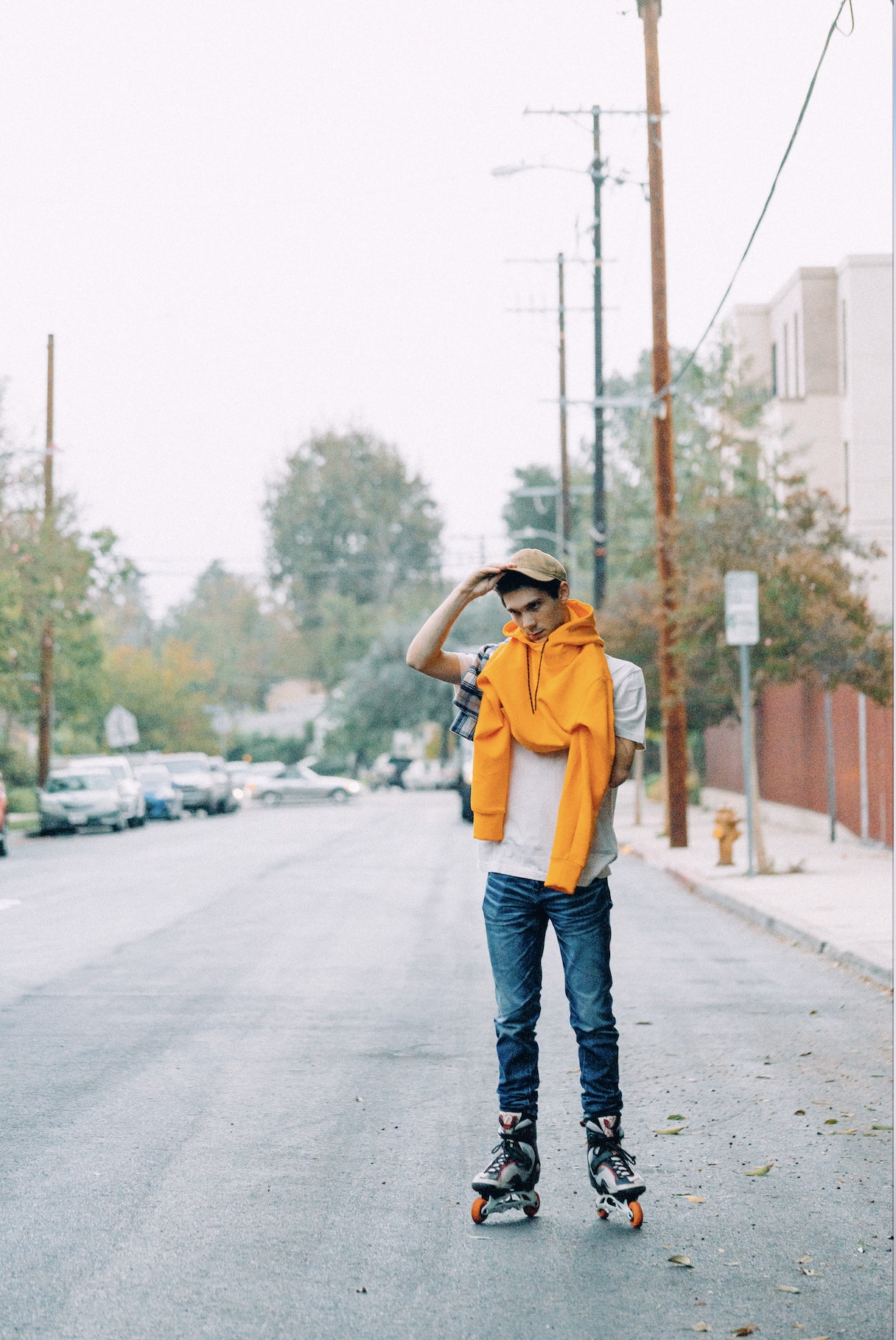 Uproxx
Life in quarantine has also given MyKey ample time to explore his own personal style, a piece of his personality that he gave little thought to prior to the pandemic,
"I feel like quarantine gave everyone a lot of time to think about absolutely everything," he says. "Now I have time to lean on it, like 'hey… wait, I can pick what I wear and choose a certain style!' That's something I'm definitely going to abuse. When things open up again I'm just going to swag out."
How does MyKey define "swagging out" and what sort of fashion statement is he planning once he emerges from his quarantine hibernation? The answer is unsurprising.
"The statement is: this boy looks comfy."
As COVID drags on, MyKey's wardrobe grows with streetwear and comfort-focused basics from American Eagle that reflect his always-chill personality, like his Active 24/7 Hoodie (that happens to go great with his rollerblades). This new attention to fashion is finding its way into his songs, too. Specifically on the summer single, "Hand Me Down," which uses clothing not only as a metaphor for lost love but as a status symbol separating two incompatible personalities. The track started as a light-hearted and humorous writing exercise.
"In my notes page on my phone I made one clothes pun and I thought 'what if I just make a bunch of clothes puns?' and I ended up writing that song and pulling a bunch of those puns, because I thought 'I can't have a song that's just clothes puns!'"
The result is something with wordplay and genuine emotional resonance. MyKey's ability to turn his disparate influences and inspirations into a concise pop song that is universally relatable proves that he's the troubadour this generation needs — soulful, searching, and always chill.
Uproxx
Source: From Music To Gaming To Style, Singer Songwriter And Casual King MyKey Goes With The Flow